Paradise Valley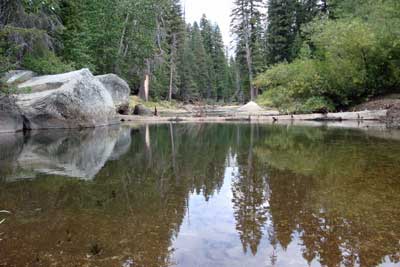 Paradise Valley stretches 3 miles along the South Fork of the Kings River in Kings Canyon National Park. Only a day's hike from Cedar Grove's Road's End, Paradise Valley has been a favorite of wilderness hikers for more than 100 years. For many it is a great two-night destination, for others it serves as the first leg in the famous Rae Lakes Loop.
Because of Paradise Valley's popularity, visitors are limited to two-night stays in one of three designated camping areas. It's hardly enough time to enjoy this tranquil valley, but if you push on to a higher destinations, you can always return to the valley on your way out.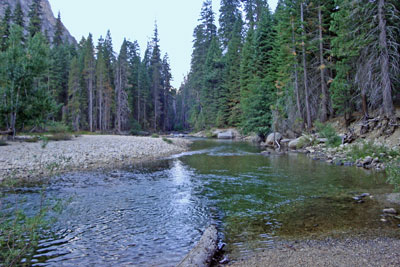 South Fork of the Kings River
Paradise Valley - Key Facts
Location: Kings Canyon National Park, 80 miles east of Fresno
Trailhead: Road's End in Cedar Grove, elevation 5,035 feet
Lower Paradise Valley elevation: 6,575 feet
Elevation Gain: 1,540 feet
Hiking Distance: 6 miles to Lower Paradise Valley
Best seasons: Early summer (sometimes late spring) to fall
Campsites: Designated areas: Lower (6 miles), Middle (7 miles), and Upper (10 miles)

Editors' Suggestions
One of the best times to visit Paradise Valley is in the spring soon after the road has opened to Cedar Grove. Usually you can get out onto the trails for several weeks before the mosquitoes emerge. With snow melt nearing its peak, Mist Falls will be at its most spectacular and the South Fork of the Kings River will be flowing high on its banks. Take time to walk out onto the bridge at the Bubbs Creek junction and enjoy the flow of the water around huge boulders. There are no significant stream crossings along the trail to worry about.
Bring a book and blanket and plan some time sitting along the river bank in a solitary spot of your choosing. The gentle flow of the river and the whisper of the breeze through the conifers in Paradise Valley will soothe away all your tensions. Invite friends along on your trip and enjoy an evening of camaraderie around the campfire.
Wildlife
For many year the Bears in Paradise Valley were nearly as notorious as those in Yosemite. Strict requirements for bear canisters and the availability of bear boxes have taught resident bears that campsites are no longer a source of food. Deer wander nonchalantly through valley. Rattlesnakes are much less common along the trail than they were decades ago, but hikers should always use caution. Off-trail travelers should be extra vigilant.
Although mountain lions inhabit the area, chances are you will never see one. Mosquitoes are especially annoying from early summer through mid-August. Small black flies pester hikers later in the summer. Birders will find plenty to watch in the meadows and along the river.