The Trail to Paradise Valley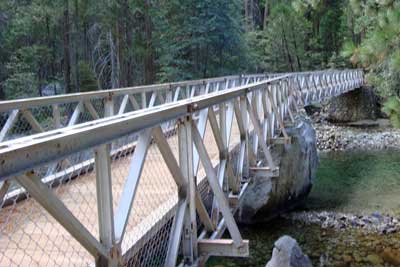 Bridge over the Kings River at Bubbs Creek
Road's End to Paradise Valley, 6 miles
From Road's End strike out across Zumwalt Meadow, 2 miles of virtually flat, sandy trail through light forest. The forest thickens as you approach the bridge across the South Fork of the Kings River. Although the bridge leads to the Bubbs Creek Trail, it is worth the short diversion to stand on it and enjoy the power and beauty of the mighty Kings.
Beyond the bridge the trail climbs moderately another 2 miles to Mist Falls, a popular rest stop. Beyond the falls expect steep, hot switch-backs for the 2 miles before entering lower Paradise Valley. Views of The Sphinx emerge from time to time.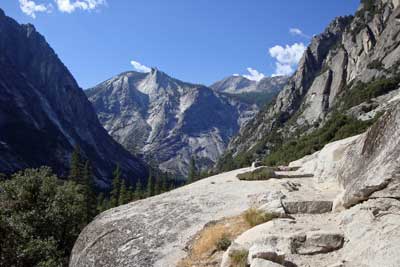 The Sphinx, 9,431'
Lower Paradise Valley to Upper Paradise, 3 miles
For nearly 2 miles the trail leads through the deeply shaded valley, often within sight of the river. Toward the upper end of Paradise Valley the trail climbs several hundred feet before reaching the flats near the junction of Woods Creek.
Paradise Valley
In years past campers were allowed to choose their sites anywhere along the valley, but overuse caused rangers to limit camping to three areas along the valley. Each of these campgrounds has designated sites and a nearby pit toilet.