Wild and Scenic Pioneer Basin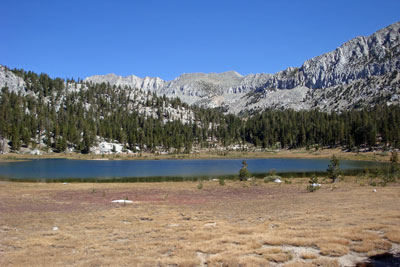 Lowest Pioneer Basin Lake
The lowest of the Pioneer Basin lakes offers a nice campsite among the trees at its outlet. The next lake is less than a mile away, but 500 feet higher than the lowest lake. More scenic camping spots are found around the second lake and much larger fourth lake, but trees along the shoreline offer less shelter. Campfires are not allowed at any of the lakes.
Fishing
Fish for rainbow and brook trout in the lowest lake. The others have brook trout, with some of the higher lakes sporting golden trout.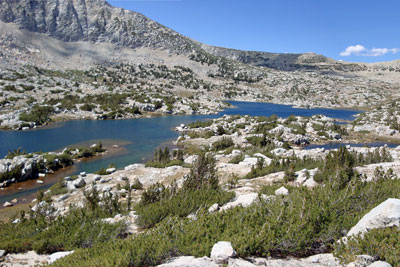 4th and Largest Lake in Pioneer Basin
Explore the Area
A tour of all the lakes in Pioneer Basin is worth making. A great side-trip is to descend from Pioneer Basin and pick up the lateral trail to spectacular Fourth Recess Lake. Plan on spending the day there, hiking, fishing, and taking pictures.
Peak Bagging
All four of the big peaks - Huntington, Stanford, Crocker, and Hopkins - have class 2 - 3 routes. Mt. Hopkins is the easiest to ascend, with a sandy, class 1 route from Pioneer Basin. Before setting out on any climb, read the details in R. J. Secor's The High Sierra: Peaks, Passes, and Trails.