Pioneer Basin - Deep in the John Muir Wilderness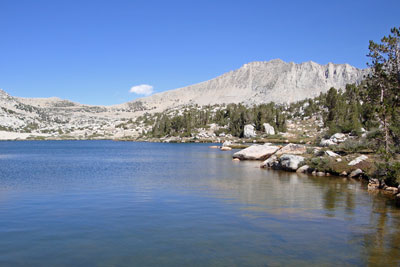 The seven lakes in Pioneer Basin are spread across a high valley on the Mono Creek drainage, west of Rock Creek. Surrounding the valley are peaks named after the Big Four California businessmen who backed the construction of the first transcontinental railroad - Stanford, Hopkins, Crocker, and Huntington.
While it is possible to reach Pioneer Basin from the west, coming up from Lake Edison, most backpackers prefer the shorter approach over 12,000-foot Mono Pass from Rock Creek on the eastern side of the Sierra. The 8-mile route includes climbing about 2,000' feet and descending a similar elevation.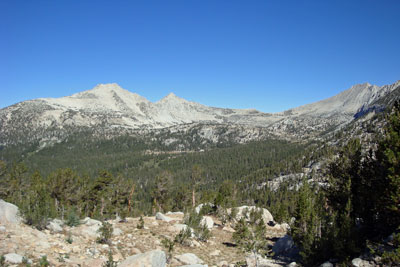 Pioneer Basin in the Distance from Mono Pass
Pioneer Basin - Key Facts
Location: John Muir Wilderness, west of Rock Creek.
Trailhead: Mosquito Flat, along Rock Creek, elevation 10,240'
Highest point on Trail: Mono Pass, 12,068 feet
Elevation of lowest lake in Pioneer Basin: 10,383 feet
Elevation Gain: 2,150 feet (total)
Elevation Loss: 2,006 feet
Hiking Distance: 8 miles
Best seasons: Mid-summer to fall
Campsites: Good sites at lower lakes

Editors' Suggestions
Spend at least one or two nights in the Rock Creek area to help your body adjust to the elevation before setting out on the trail over Mono Pass. Make an early start on your hike to avoid the heat later in the day.
Camp your first night at Fourth Recess Lake or the lowest of the Pioneer Basin lakes, but then move your camp up to the second lake. Sunset and sunrise from there is worth the effort. Be prepared for afternoon rain squalls with plenty of tarps to supplement your tent. Choose a spot for your tent that is sheltered from possible lightning, is not in the path of runoff from a hillside and is not slightly hollowed so that it forms a lake if any rain comes.
Keep in Touch
Keep in touch with family and friends as you make your hike while increasing your safety. More and more hikers are carry a GPS satellite messaging device in case of an emergency on the trail or simply to reassure loved ones back home that all is well.
Wildlife
Although Bears are unlikely as high as Pioneer Basin, on rare occasions they have been known to roam up to 14,000 feet. Bear canisters are not required, but the trees around the upper lakes are not tall enough for effective hanging of food. Deer frequent the Mono Creek area, but usually only venture into Pioneer Basin in the fall. Rattlesnakes are unlikely along the trail, but hikers should always use caution. Off-trail travelers should keep their eyes open.
Mosquitoes are especially annoying from early summer through mid-August. By late August and through September they are usually not a problem. Look for marmots peeking out on the rocks around Pioneer Basin.