Rae Lakes Camping and Exploring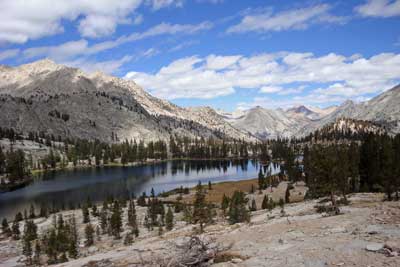 Arrowhead Lake
Campsites are plentiful around the Rae Lakes and back down the trail at Arrowhead Lake. There are bear boxes near all the lakes from Arrowhead on up. Because of the popularity of the area, camping is limited one night at each of the lakes from Dollar Lake to Glen Pass. Two bear boxes are located the middle lake with numerous campsites around them. A staffed ranger cabin is just off the trail near the middle of the lake.
Fishing
Fishing has always been excellent in the Rae Lakes and in most of the neighboring lakes and connecting streams. Anglers usually land rainbow and brook trout.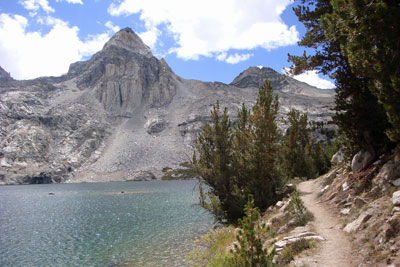 Painted Lady and Trail to Glen Pass
Explore the Area
After completing a tour of the Rae Lakes, you may wish to venture off to Sixty Lakes Basin. The trail begins on the west shore of Upper Rae Lake and within a mile climbs a low ridge just south of prominent Fin Dome. Sixty Lakes Basin is scattered with alpine lakes. Mount Cotter rises to the west.
Peak Bagging
For experienced mountaineers, several of the surrounding peaks have class 2 and class 3 routes. Among them are Mt. Rixford, Mt. Cotter, and Painted Lady. For route descriptions consult R. J. Secor's The High Sierra: Peaks, Passes, and Trails.