Rae Lakes - in the Heart of Kings Canyon National Park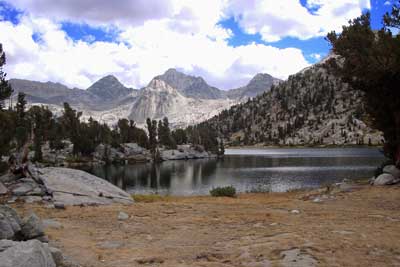 Scenic Rae Lakes spread in a broad cirque at the foot of grand peaks such as Painted Lady, Mount Rixford, and Dragon Peak. Off to the south stands 12,000-foot Glen Pass, the next challenge awaiting those who are making a clockwise circuit of the famous Rae Lakes Loop.
Beautiful views emerge as the hiker arrives at the lakes after a long climb up Woods Creek. Campsites are plentiful around the several main lakes and back down the trail. Camping is limited to 1 night per lake between Dollar Lake and Glen Pass in order to protect the area from overuse.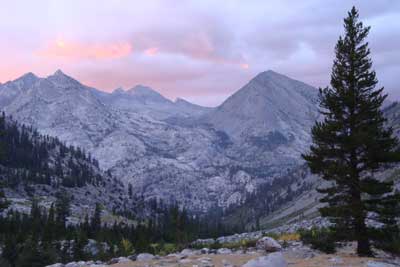 Window Peak and Woods Creek Valley
Rae Lakes - Key Facts
Location: Kings Canyon National Park, 80 miles east of Fresno
Trailhead: Road's End in Cedar Grove, elevation 5,035 feet
Middle Rae Lake elevation: 10,538 feet
Elevation Gain: 5,503 feet
Hiking Distance: 22.7 miles (best spread over 2-3 days)
Best seasons: Summer through fall
Campsites: Scenic spots around all three lakes

Editors' Suggestions
Make your visit to Rae Lakes part of the popular Rae Lakes loop. Beyond the lakes cross Glen Pass and then descend the Bubbs Creek drainage, bringing you back to your original trail only a couple of miles from Road's End. Plan at least a week for the trip. Submit your application for the trip early since the number of available permits fills quickly. Most hikers prefer to travel the loop clockwise. By so doing, you climb Glen Pass on the shaded north side.
Plan to spend at least two days in the Rae Lakes area. You can break up your stay by crossing over to 60 Lakes Basin for a night. Expect a lot more travelers along the John Muir Trail portion of your trip.
Wildlife
Bears in Kings Canyon have learned that hikers use bear canister and bear boxes to protect their food. Consequently, although you may see bears around Paradise Valley and lower Woods Creek, they will pay little attention to you as long as you keep your distance. Deer are fairly tame, especially at lower elevations. Rattlesnakes are rare along the trail, but hikers should always use caution. Off-trail travelers should keep their eyes open. For those making the full Rae Lakes loop and exploring side trails, be aware that the Gardner Basin trail is well known as a rattlesnake haven.,
Mosquitoes are pesky early summer through mid-August. By late August and through September they are usually not a problem. Watch for marmots sunning on the rocks around Rae Lakes.