Hiking to Rae Lakes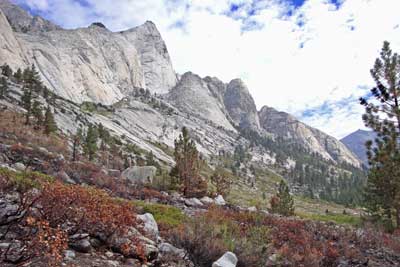 Castle Domes
Road's End to Upper Paradise Valley,
10 miles
The well-used trail to Paradise Valley begins with a sandy stroll across Zumwalt Meadow, but just beyond the turnoff to the Bubbs Creek trail, the climb begins. Pass Mist Falls and then tackle 2 miles of steep switch-backs before entering Paradise Valley. An easy walk through most of the valley is followed by a short climb to the upper camping area.
Paradise Valley Camping
Camping is limited to three campgrounds - lower, middle, and upper. There is a 2-day limit in the valley. Each camping area has designated sites, pit toilets, and bear boxes.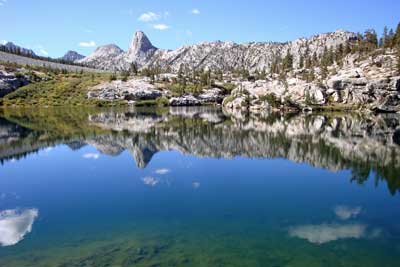 Dollar Lake and Fin Dome
Upper Paradise to the John Muir Trail,
5.7 miles
Cross the Kings River on a bridge and start up Woods Creek. Steady climbing through forest soon gives way to an area that burned in 2012. Watch for the grand Castle Domes on your left. Descend to Castle Domes Meadow and then climb again to the junction with the John Muir Trail. Cross the bridge to find good campsites and bear boxes
JMT Junction to Middle Rae Lake,
7 miles
Climb steadily up the South Fork of Woods Creek, eventually passing Dollar Lake, Arrowhead Lake, and finally Lower Rae Lake. Middle Rae Lake is just ahead with good campsites.