Rae Lakes' Cedar Grove Trailhead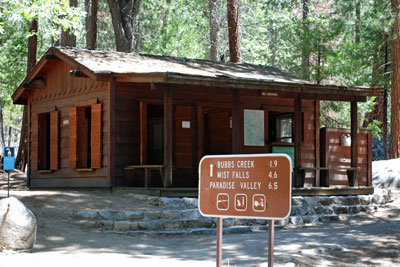 Permit Station at Road's End
Hiker's begin the journey to Paradise Valley at Road's End Trailhead in Cedar Grove, 38 miles from the entrance to Kings Canyon National Park. The wilderness permit office is situated alongside the trail near the parking lot.
Once you check in there, they will issue you a wilderness permit which can be attached to the outside of your pack. Park in the nearby overnight parking area. Do not leave anything in your car that will attract bears. Bear boxes are located adjacent to the parking area. Restrooms and water are available.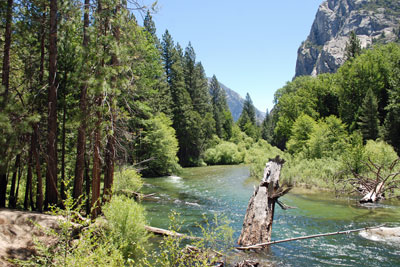 Kings River near Road's End
Camping and Lodging
In nearby Cedar Grove you will find several large campgrounds. In the summer it is wise to have a reservation if you plan to camp there. Lodging is available at the Cedar Grove Lodge. A very nice snack bar is open from breakfast, lunch, and dinner during the summer. Next door is a gift shop and market. Showers are also available nearby in a separate shower building.
More campgrounds, lodging, stores, a post office, and restaurant are found 35 miles back at Grant Grove.
The Cedar Grove Pack Station is located near Cedar Grove Village.