Most Popular Devices
Messaging Devices
SPOT GPS Messenger

Push button to summon emergency help, sends your GPS coordinates
Send pre-determined messages to friends via email, includes map showing your location.
Track your progress, allows friends to follow your progress online in real time
SPOT ASSIST alerts your contacts that you need help in non-life-threatening situation.

DeLorme inReach

Allows 2-way messaging, although a little cumbersome. Includes GPS coordinates
Summon emergency help and communicate with rescuers via messaging
Track your progress, allows friends to follow your progress, includes elevation
Delivery of messages is confirmed.
Personal Locator Beacon Devices
ACR ResQlink Personal Locator Beacon

SOS transmission at 5 watts of power (well above others)
Uses very reliable COSPAS/SARSAT military satellite network
Sends your GPS position
Built in LED strobe light for night rescues
Satellite Phones
SPOT Global Phone

Phone voice connection via satellite
Emergency 911 connection with GEOS International Emergency Response Center.
Access your voice mail or connect to your computer to check and respond to emails (with data kit)
35-character text messaging
Up to 4 hours of talk time per battery charge

Iridium Satellite Phone

Phone voice connection via satellite
Dedicated emergency SOS button with GEOS integration
Enhanced SMS and email messaging capability
Up to 4 hours of talk time per battery charge
General Observations
Thousands of people lost or injured in the wilderness have been saved because they carried one of these devices. The investment of money and the small extra weight of carrying the device is well worth it. Carry the device on you, not in your pack. In an emergency you could be separated from your pack. Make it a habit to have it with you any time you leave camp.
All of these devices have more features than we have room to explain here. Some have variations of the same device.
GPS Messaging Devices, Personal Locating Beacons (PLB), and Satellite Phones have become common safety devices carried by backpackers. The electronics allow backpackers to communicate with family and friends outside the wilderness and, more importantly, to summon help in an emergency. Since the devices connect with satellites rather than cell towers, they are far more reliable in the back country than cell phones.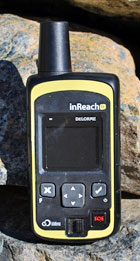 DeLorme inReach SE
Besides the cost of purchasing the device, there is usually a monthly or annual service charge. Most backpackers who use these devices consider them well worth the slight extra weight and modest expense for the peace of mind of being able to communicate with the outside world.
Devices vary in what they can do, ranging from sending simple one-way messages to full 2-way voice conversations on satellite phones. Prices vary accordingly.
All devices need a clear view of the sky to operate. They do not do well in heavily forested areas or deep, narrow canyons. Satellite phones can be rented for several days or much longer at reasonable prices.
GPS Messaging Devices, PLB, and Satellite Phones
Product
Weight
Purchase Price1
Service Cost2
1Prices may vary depending on vendors
2 Cost can vary based on type of service
3DeLorme has a variety of service plans beginning as little as $144 per year
4Service plans for satellite phones vary based on the number of minutes per month.


SPOT Gen3 GPS Messenger
4 oz.
$75
$150/year
DeLorme inReach SE
7 oz.
$300
$3003
ACR ResQlink 406 PLB
4.6 oz.
$281
None
SPOT Global Phone
7.1 oz.
$250
$480+4
Iridium Extreme 9575 Satellite Phone
8.6 oz.
$1300
$360+4
Pros and Cons for GPS Messenger Devices, PLB, and Satellite Phones
Personal Locator Beacons
A Personal Locator Beacon device is the cheapest over time. The ACR ResQlink 406 PLB shown above transmits for about 30 hours. Rescuers receive GPS coordinates and know your location within 100 meters. The device has an excellent history of reliability. The main drawback of any PLB is that the user has no way to send any information to rescuers.
GPS Messaging Devices
The SPOT Gen3 GPS Messenger allows users to send pre-programmed messages to pre-set email address (family and friends). The messages are often something like, "Everything is okay" or "We have been delayed a day, but are doing fine." Email recipients also get a link to a map showing your location. An SOS message is sent to family/friends and to GEOS International Emergency Response Coordination Center which will initiate a rescue. The SPOT also has several tracking features to record your waypoints.
The main drawback with the SPOT is its inability to receive 2-way communications. In an emergency it could be important to be able to message back and forth with rescuers. Or if an emergency arises at home, someone can let you know.
The DeLorme inReach SE allows 2-way messaging, limited to 160 characters per message. Recipient email addresses can be entered into the device while you are in the backcountry. Although the keyboard is cumbersome to use, it works well enough to send messages. Like the SPOT, the inReach can summon rescuers and has a tracking function. The interface requires practice, something best done at home before setting out on a trip. Find the complete instructions online and print them out to carry with you.
Satellite Phones
In the past most hikers have rented a satellite phone for their extended backpack trips, but the Spot Global Phone has brought satellite phones into a reasonable price range for those who would use the phone regularly.
The phone functions similar to a cell phone, allowing users to make and receive calls, check email, and send text messages. Dial 911 to connect with rescuers. Users will want to carry an extra battery on long trips or be careful with their minutes. A variety of service plan are offered. There is a $50 activation fee.
The Iridium Extreme 9575 Satellite Phone (shown right) is one of the more popular models of satellite phones. The Iridium satellite network is considered the best available for satellite phones. The purchase price is high, prompting many backpackers to rent rather than buy. Companies such as Bluecosmo offer rentals for as low as $7.99 per day.