Camping and Exploring in Sixty Lake Basin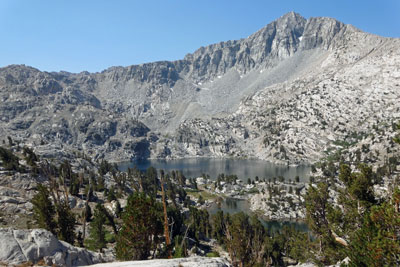 Upper Sixty Lake Basin
With so much exposed granite and such jumbled terrain, good campsites are a challenge for backpackers to locate in Sixty Lake Basin. However, with a little exploring, small parties can find adequate patches of ground on which to pitch their tents in many places up and down the basin. At times, campsites can be windy and cold. Check the Sixty Lake Basin Map for areas where possible campsites can be located.
Fishing
Fish have been removed from most of the lakes in the basin to help revive the once thriving population of mountain yellow-legged frogs.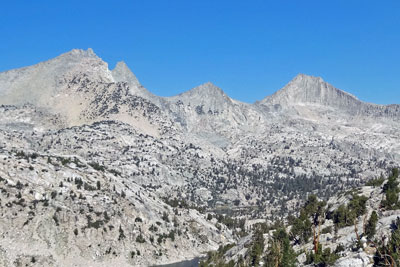 Mount Cotter (left) and Mount Clarence King (right)
Explore the Area
Gardiner Basin
For experienced cross-country hikers, Sixty Lake Col, one mile south of Mt. Cotter, provides access to wild and rugged Gardiner Basin to the west.
Peak Bagging
Sixty Lake Basin is surrounded by soaring granite summits that beckon experienced mountaineers. Mt. Cotter (12,721') has several class 2-3 routes. Fin Dome (11,693') has a class 3 route. Magnificent Mount Clarence King is too difficult for all except skilled rock climbers. A good resource is R. J. Secor's The High Sierra: Peaks, Passes, and Trails.