Adventure Hiking in Remote Sixty Lake Basin
Remote Sixty Lake Basin is often bypassed by those hiking Kings Canyon's popular Rae Lakes Loop trail. A short side-trip from Rae Lakes, however, leads hikers into a wonderland of alpine lakes and creeks scattered among low granite ridges. Plan to explore the 2½-long basin wandering cross-country from lake to lake. Expect rugged camping amidst rocky terrain, few trees, and spectacular views of surrounding peaks.
Sixty Lake Basin can be reached by backpackers from the east side of the Sierra via Kearsarge and Glen passes. The strenuous, 15.2-mile hike to Sixty Lake Basin is best spread over two or three days.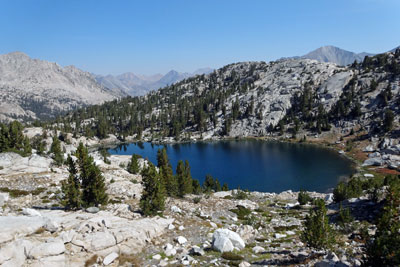 Sixty Lake Basin
Sixty Lake Basin
Key Facts
Location: Kings Canyon National Park
Trailhead: Onion Valley, elevation 9,190'
Kearsarge Pass: 11,700' (2,510' climb)
Glen Pass: 11,900' (1,300' climb from lowest point between passes)
Hiking Distance: 15.2 miles (via Kearsarge Lakes)
Best seasons: Mid-summer to fall
Best Campsites: Kearsarge Lakes, Charlotte Lake, Rae Lakes, Sixty Lake Basin

Editors' Suggestions
Crossing two high passes is a strenuous endeavor. Take time to acclimate at a moderately high elevation on the east side of the Sierra for a day or two before starting your hike. Then linger among the lakes along the way up Kearsarge Pass to make the ascent more enjoyable. While the climb up Glen Pass is only about 1,300 feet, it's higher altitude and steeper trail make it a formidable obstacle. Views from the tops of both passes are spectacular.
If time allows, plan to spend a day or two among the beautiful Rae Lakes on the way in.
Backpackers may also want to consider the longer, but more gradual approach to Sixty Lake Basin from Cedar Grove on the west side of the Sierra. (see Rae Lakes Trip.)
Wildlife
Bears in Kings Canyon have learned that hikers use bear canister and bear boxes to protect their food. Consequently, although you may see bears in the some of the lower elevations along the trail, they are not likely to be a problem. Deer are fairly tame in the park and may wander past your camp. Rattlesnakes are usually not encountered above 10,000 feet, but hikers should always be wary. Off-trail travelers should be especially vigilant.
Mosquitoes are pesky early summer through mid-August. By late August and through September they are usually not a problem. Watch for marmots sunning on the rocks around Rae Lakes and in Sixty Lake Basin.
Note that fish have been removed from many lakes in Sixty Lake Basin to protect the mountain yellow-legged frog.