Hiking the Trail to Sixty Lake Basin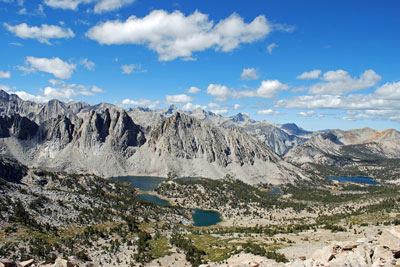 Kearsarge Lakes from Kearsarge Pass
Onion Valley to Kearsarge Lakes, 5.7 miles
The trail from the Onion Valley parking lot begins climbing immediately, soon passing a series of scenic mountain lakes, including Gilbert Lake and Flower Lake. Hikers emerge above timberline for the last mile to the top of Kearsarge Pass (4.6 miles).
Kearsarge Lakes offer a convenient overnight camping destination before tackling Glen Pass. Bear boxes are no longer available at Kearsarge Lakes (2017). There is no camping at Bullfrog Lake. An alternate camping stop at Charlotte Lake is 3.5 miles from the summit of Kearsarge Pass.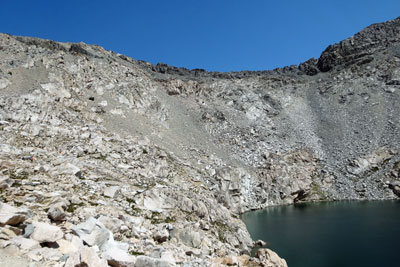 Glen Pass, 11,926'
Kearsarge Lakes to Glen Pass,
5.5 miles
Follow the trail 2 miles past Bullfrog Lake to the John Muir Trail, pausing to refill water bottles along the way. The most strenuous section of the climb up Glen Pass comes about 1.3 miles from the summit. At the top spectacular views spread before you. (For those camped at Charlotte Lake it is a 3.5-mile hike to the top of the pass.)
Glen Pass to Sixty Lake Basin,
4 miles
From Glen Pass the trail descends 2 miles to the Sixty Lake Basin side-trail, marked by a sign. Camping at beautiful Rae Lakes is worth considering before continuing over the 700-foot ridge into Sixty Lake Basin.