Tuolumne Meadows to Devils Postpile Camping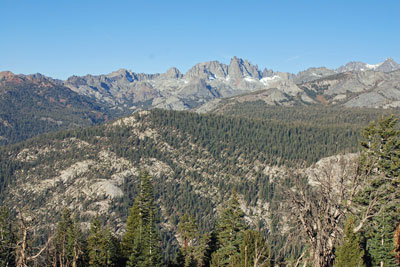 Ritter Range
Good campsites are found at the upper end of Lyell Canyon, around Rush Creek, along the shores of Thousand Island and Garnet lakes, but no camping within 300 feet of the outflow of either lake. No camping is allowed at Shadow Lake or along the river above it. Good sites are at Rosalie Lake and Gladys Lake. At Devils Postpile and Reds Meadow there are National Forest campgrounds.
Fishing
All the lakes and streams have good fishing. Both Thousand Island, Garnet, and Shadow have rainbow and brook trout. Rosalie has rainbows.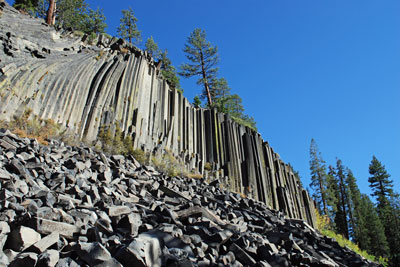 Devils Postpile National Monument
Explore the Area
Side trips to Marie Lakes and Davis Lakes make great diversions from the main trail. Both have good fishing. A loop trail that includes Ediza, Iceberg, Cecile, and Minaret lakes takes you into scenic high country at the foot of the Ritter Range Minarets.
Peak Bagging
Many of the prominent peaks along the trail have class 2 and 3 routes to their summits.

Read details in R. J. Secor's The High Sierra: Peaks, Passes, and Trails.