Tuolumne Meadows to Devils Postpile on the John Muir Trail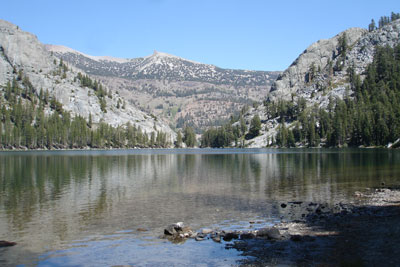 One of the most scenic and enjoyable sections of the John Muir Trail leads from Tuolumne Meadows in Yosemite to Devils Postpile near Reds Meadow and Mammoth Lakes. Cover the miles quickly in 2 days or enjoy a more leisurely journey with more time to appreciate the wonders of the trail. Experience incomparable scenery along Lyell Canyon, on top of Donohue Pass, and around Thousand Island Lake and Banner Peak. Be sure to carry a camera.
Camping possibilities begin after 4 miles out on the trail and are available at numerous places all the way to Devils Postpile. Plan to spend at least one night around Thousand Island Lake.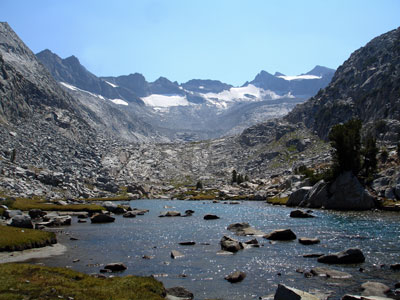 Mount Lyell
Tuolumne to Devils Postpile - Key Facts
Location: Yosemite National Park and Ansel Adams Wilderness
Trailhead: Tuolumne Meadows, elevation 8,625 feet
Highest point on the trail: Donohue Pass, 11,056 feet
Devils Postpile elevation: 7,565 feet
Elevation Gain: ~4,100 feet (counting all ups)
Elevation Loss: ~5,200 feet (counting all downs)
Hiking Distance: 31 miles
Best seasons: Summer through fall

Editors' Suggestions
Competition for wilderness permits to hike on the John Muir Trail in Yosemite is very high. To reduce the impact on the trail, Yosemite has set up a 45 person per day exit quota over Donohue Pass. Only hikers with permits from a limited number of trailheads in Yosemite may then exit over Donohue Pass. The Lyell Canyon trailhead for this hike is one of those approved trailheads. Your permit will include passage out of the park over Donohue Pass. For more details, see Wilderness Permits for JMT Hikers
Increase the odds of obtaining a permit by planning your trip for September when fewer people are on the trail and mosquitoes are gone.
A 3-day trip will cover the trail at a comfortable pace and allow you to camp at such scenic spots at upper Lyell Canyon and Thousand Island Lake.
Remember that soon after Labor Day the shuttle bus from the Devils Postpile area to Mammoth Lakes is no longer running. Carry $7 for the fare.
Reds Meadow/Devils Postpile Shuttle Information
Keep in Touch
Keep in touch with family and friends as you make your hike while increasing your safety. More and more hikers are carry a GPS satellite messaging device in case of an emergency on the trail or simply to reassure loved ones back home that all is well.
Wildlife
Notorious Yosemite bears won't be a problem as long as you use the required bear canister. Be especially vigilant about keeping food in your canister in Yosemite and around Thousand Island Lake. Deer are rare visitors along this heavily used trail, as are rattlesnakes.
Mosquitoes are especially annoying along Lyell Canyon in early summer. Plan your first night's camp in a dry and windy spot if you are hiking in July. By late August and through September they are usually not a problem.
Have your camera ready to snap a picture of a marmot on Donohue Pass. Birders will likely see Stellar Jays and Juncos. Unlikely sightings include Peregrine Falcons and Red-trailed Hawks.