The John Muir Trail from Tuolumne to Devils Postpile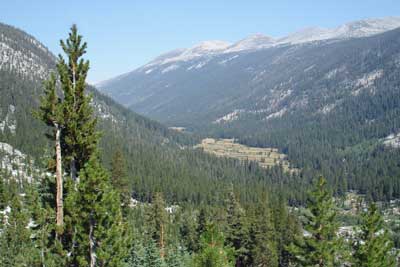 Lyell Canyon
Tuolumne Meadows to Upper Lyell Canyon, 9.3 miles
From Tuolumne Meadows take the trail leading up gentle, scenic Lyell Canyon. Many hikers camp around the bridge at the foot of the pass, but there are other sites a little farther up the trail.
Upper Lyell Canyon to Thousand Island Lake, 8.7 miles
Pause often on the pass to enjoy the view. Once over the summit, drop quickly and pass the Waugh Lake trail junction. Then climb 600' to the top of Island Pass. Views of Banner Peak and Thousand Island Lake soon unfold. No camping around the mouth of the lake; good sites along the north shore.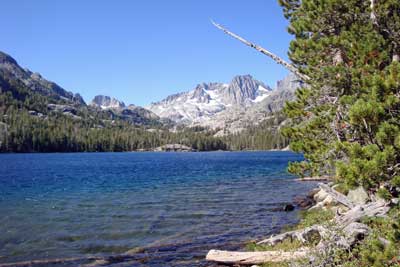 Shadow Lake
Thousand Island Lake to Rosalie Lake,
6.5 miles
Make the quick hop over to beautiful Garnet Lake, also with good camping. Then a short climb takes you over a ridge and down several miles to Shadow Lake. No camping at the lake. Circle the lake and begin the 700' climb to Rosalie Lake, a nice camping spot.
Rosalie Lake to Devils Postpile,
6.2 miles
After a short climb, begin a 2000-foot descent to Devils Postpile. The trail passes the Emerald Lakes and finally marshy Johnson Lake. Continue downstream, soon reaching the maze of trails around Devils Postpile. Cross the bridge and turn upstream to the trailhead.