Vidette Meadow Camping and Exploring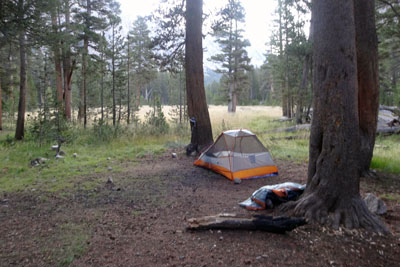 Vidette Meadow Campsite
There are two meadow areas at Vidette Meadow - Lower Vidette Meadow and East Vidette. Both have good campsites near them. The lower meadow is larger, has a bear box, and is off the main John Muir Trail. A large camping area is spread among the trees around the bear box at the edge of the lower meadow. Other campsites can be found off the trail for 1½ miles around to the shadow of East Vidette Peak.
Fishing
Fishing is good for brook trout in Bubbs Creek, both in the meadow area and above and below popular camping areas.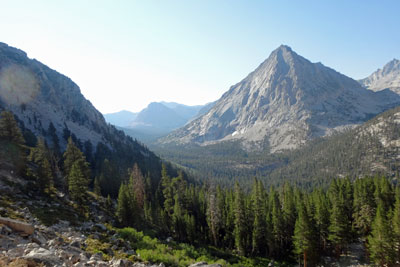 East Vidette Peak, looking south toward Center Basin
Explore the Area
Hike up to the north to explore Charlotte and Bullfrog lakes near the foot of Glen Pass, head east up Bubbs Creek toward Center Basin and Golden Bear Lake, or set out cross-country to Vidette Lakes.
Peak Bagging
West Vidette has a class 2 route and East Vidette is class 3. University Peak, which can be seen in the distance from Lower Vidette Meadow (the distant center peak in our banner photos) has class 3 routes. For route descriptions consult R. J. Secor's The High Sierra: Peaks, Passes, and Trails.