Vidette Meadow in Kings Canyon National Park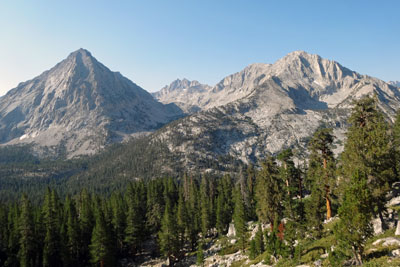 Beautiful Vidette Meadow spreads among high peaks deep in Kings Canyon National Park. Comfortable campsites beside the meadow serve as convenient bases for exploring the surrounding high country from Charlotte Lake to Forester Pass. Anglers find great fishing along Bubbs Creek.
From the trailhead at Cedar Grove, two days of backpacking up Bubbs Creek lead under the shadow of Charlotte Dome and through scenic Junction Meadow before the final climb to Vidette Meadow. Hikers on the John Muir and Pacific Crest trails pass through the upper meadow, while the lower meadow usually serves as a stop for those on the Rae Lakes Loop trail.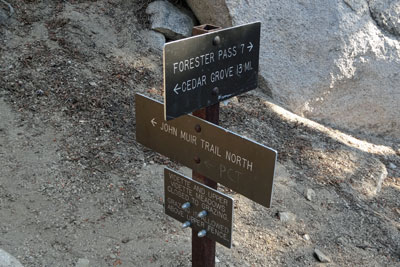 Vidette Meadow - Key Facts
Location: Kings Canyon National Park, 80 miles east of Fresno
Trailhead: Road's End in Cedar Grove, elevation 5,035 feet
Lower Vidette Meadow elevation: 9,490 feet
Elevation Gain: 4,455 feet
Hiking Distance: 13 miles (to Lower Vidette Meadow)
Best seasons: Summer through fall
Campsites: Excellent sites from lower to upper Vidette

Editors' Suggestions
Plan a later summer or early fall trip to avoid mosquitoes. Vidette Meadow is a crossroads of popular trails, making it a wonderful place to meet people and share stories about hiking in the wilderness. Large camping areas such as the one around the bear box in Lower Vidette Meadow serve as community camping areas. For privacy, seek out nearby, smaller sites. Bring along a lightweight day pack so you can enjoy all-day side trips. Also, don't forget fishing gear and a camera.
Because Vidette Meadow is below 10,000 feet, campfires usually are permitted there.
Wildlife
Bears were once notorious for stealing hikers' food in Vidette Meadow, but no longer. The use of bear canisters and bear boxes has changed all that. Deer are commonly seen around Vidette Meadow and along the Bubbs Creek trail. Rattlesnakes are more common along the Bubbs Creek trail than many other parts of the Rae Lakes Loop. Likely you will not see one, but always be vigilant.
Mosquitoes thrive in meadow areas in early and mid summer. By late August and through September they are usually not a problem.