Camping and Exploring around Young Lakes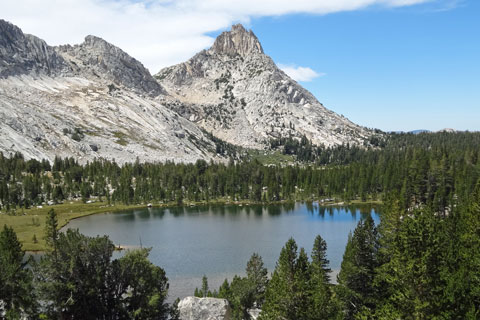 Beach along Lower Young Lake's West Shore
On busy summer weekends it is difficult to find a spot around the lower lake that isn't within eyesight of another camp. A small beach stretches along the west side of the lake and secluded campsites can be found nearby tucked back among the trees. The middle lake has some good camping spots among the trees along the north side of the lake. The more exposed upper lake has campsites around the northwest side of the lake.
Fishing
All three lakes have good fishing for brook trout with the best fishing in the middle lake.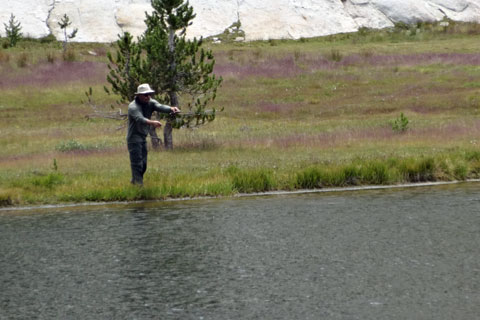 Fishing at Middle Young Lake
Explore the Area
The trail up to the upper lake involves a little scrambling as it passes a small waterfall. The views from the lake are well worth the hike. Experienced cross-country hikers might set out for Roosevelt Lake by traversing from Middle Young Lake. About 2½ miles one way.
Peak Bagging
For experienced mountaineers, Ragged Peak has a class 2 route from its southwest slope. Popular Mount Conness has a class 2 route from Young Lakes.

Read details in R. J. Secor's The High Sierra: Peaks, Passes, and Trails.