Young Lakes, Yosemite National Park2>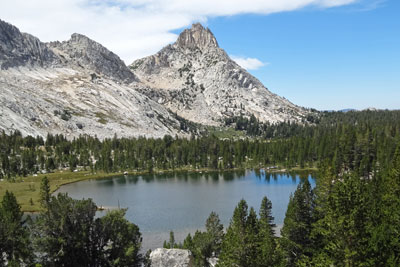 Middle Young Lake
Young Lakes north of Tuolumne Meadows in Yosemite National Park make an ideal weekend trip. The 6.4-mile hike ascends a little more than a thousand feet to the lowest and most popular camping destination of the three lakes. Magnificent views of Tuolumne Meadows and nearby peaks open up after only a mile of hiking.
Young Lakes are a popular destination during peak times. Most backpackers set up their tents at the lower lake among the scattered trees. For those seeking a little more privacy, the middle and upper lakes are better choices. Fishing is good, especially in the middle lake. Views from the upper lake are magnificent.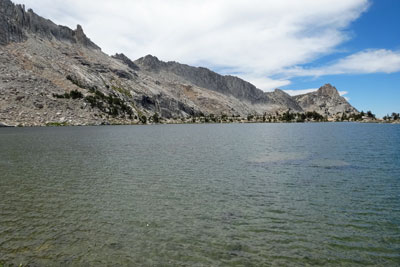 Upper Young Lake
Young Lakes - Key Facts
Location: Yosemite National Park
Trailhead: Tuolumne Meadows, elevation 8,584 feet
Highest point on the trail: 9,973 feet
Lower Young Lake elevation: 9,880 feet
Elevation Gain: 1,389 feet
Hiking Distance: 6.4 miles
Best seasons: Summer through fall
Campsites: north side of Lower and Middle Lakes, northwest side of upper lake
Activities: Fishing, photography, cross-country explorations, peak climbing

Editors' Suggestions
Two trails lead from Tuolumne Meadows to Young Lakes. While both trails are about the same length, the Dog Lake route climbs a little higher than the Glen Aulin Trail. It is best to make a wilderness permit reservation ahead of time, but some slots are left open for first-come, first-served hikers.
Camping at Lower Young Lake can be crowded. If you are looking for a little more privacy, continue on to the middle lake, only a short jaunt farther along the trail.
Water Filter Reviews
Most backpackers play it safe by filtering or purifying their drinking water. Although the risk of Giardia may be low, the consequence of ingesting it could be weeks of intestinal distress.
Wildlife
Yosemite bears are known as the most skilled food poachers in the Sierra. Bear canisters are required; there are no bear boxes. Expect a friendly visit from the ranger at the lakes to confirm that your food is stored safely. You can rent bear canisters from the Wilderness Center in Tuolumne Meadows. Deer are common around Tuolumne Meadows; rattlesnakes are rare, but hikers should always be vigilant.
Mosquitoes are heavy in early summer through about mid-August.