The Trail from Tuolumne Meadows to Young Lakes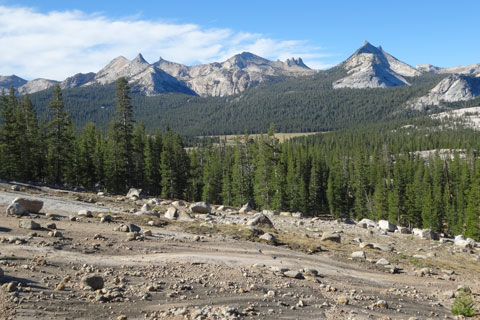 Tuolumne Meadows and Cathedral Range
Tuolumne Meadows to Glen Aulin Trail Junction, 1.6 miles
Following the Glen Aulin trail from the Lembert Dome trailhead, hikers enjoy meadow views along easy terrain for the first section of the hike. This section of the trail is part of of the Pacific Crest Trail. A sign at 1¾ miles marks the turnoff to Young Lakes.
Glen Aulin Junction to
Dog Lake Trail Junction, 3.2 miles
After a short traverse the trails turns uphill, climbing steadily in the direction of Ragged Peak and offering great vistas of Tuolumne Meadows and the Cathedral Range.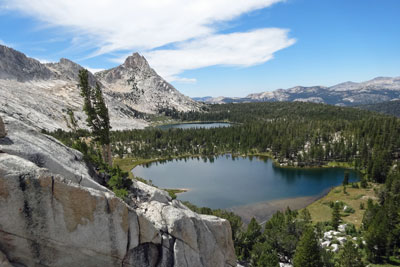 Middle Young Lake from Upper Young Lake
Dog Lake Trail Junction to
Lower Young Lake 1.6 miles
Several hundred more feet of climbing along a trail that gradually lessens in severity leads to a ridge only a quarter mile from the lake. A gentle descent soon reveals Lower Young Lake. The trails hugs the northern shore. Many turn into the trees here to find campsites.
Since campfires are not allowed, campsites are wherever you find an appealing spot back from the water's edge. Middle Young Lake is another half mile of hiking. Upper Young Lake requires the ascent of a steep, primitive trail.