Golden Bear Lake Backpacking Adventure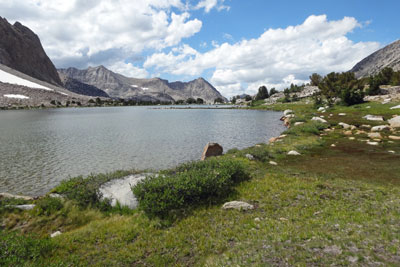 Golden Bear Lake spreads its sparkling alpine water across the lower end of Center Basin, only a few miles off the popular John Muir Trail. At 11,200 feet, Golden Bear Lake is nearly above timberline, but clusters of trees along its eastern shore provide a number of sheltered camping spots. The 2-miles of unmaintained trail leading off the John Muir Trail into Center Basin are still quite passable.
Originally the John Muir Trail was intended to pass up through Center Basin, across 13,200-foot Junction Pass and connect to the Shepherd Pass Trail. The route was abandoned in favor of a more direct route over 13,153-foot Forester Pass.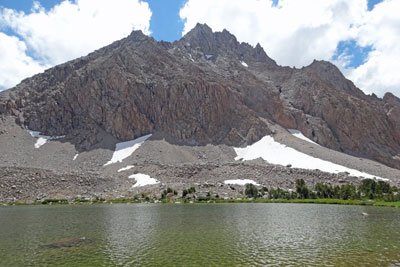 Center Peak and Golden Bear Lake
Golden Bear Lake
Key Facts
Location: Kings Canyon National Park
Trailhead: Onion Valley, elevation 9,190'
Kearsarge Pass: 11,700' (2,510' climb)
Vidette Meadow: 9,190'
Golden Bear Lake: 11,200 feet (2,010' climb)
Hiking Distance: 14.1 miles
Best seasons: Mid-summer to fall
Best Campsites: Kearsarge Lakes, Vidette Meadow, Upper Bubbs Creek, Golden Bear Lake

Editors' Suggestions
Golden Bear Lake is best reached with 2 days of hiking. After crossing Kearsarge Pass camping spots can be found around the Kearsarge Lakes. Or by continuing on the Bullfrog Lake trail (no camping at Bullfrog Lake), nice campsites can be found near its junction with the John Muir Trail.
For those who want to make a head-start on their hiking, Gilbert and Flower lakes on the eastern side of Kearsarge Pass offer good campsites and a chance to acclimatize a little more before heading up over the pass.
Wildlife
Bears in Kings Canyon have learned that most hikers use bear canisters and bear boxes to protect their food. However, there are no longer bear boxes around Kearsarge Lakes (2017), so hikers should be sure they have space in their canisters for all their food and scented items. Bears have been active all around Kearsarge Lakes and Vidette Meadow. Deer are fairly tame in the park and may wander past your camp, even as high as Center Basin. Rattlesnakes are usually not encountered above 10,000 feet, but hikers should always be wary. Off-trail travelers should be especially vigilant.
Mosquitoes are pesky early summer through mid-August. By late August and through September they are usually not a problem. Watch for marmots sunning on the rocks around Golden Bear Lake.
Note that fish are being removed from Golden Bear Lake, likely to protect the mountain yellow-legged frog.