The High Sierra Trail - Crescent Meadow to Mt. Whitney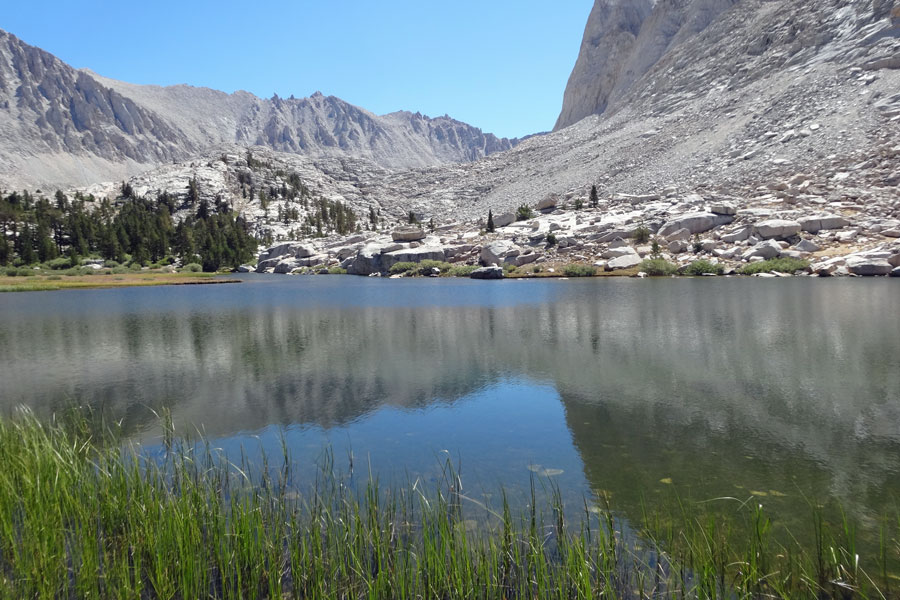 The 71-mile High Sierra Trail traverses the Sierra Nevada from Crescent Meadow in Sequoia National Park to Mt. Whitney and Whitney Portal on the eastern slope. This famous hike crosses some of the most rugged country in the Sierra, following the Middle Fork of the Kaweah River to its headwaters at Kaweah Gap and then dropping into the Kern River Canyon before swinging east again toward Mt. Whitney. Plan to enjoy a dip in the Kern Hot Springs along the way. Some hikers make an early morning start on their last day in order to experience sunrise on Mt. Whitney.
Campsites are plentiful along the route, and bear boxes are available at most popular stopping spots.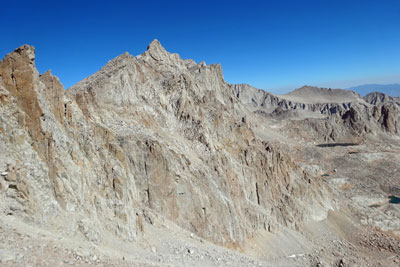 Mt. Whitney's Eastern Face
High Sierra Trail - Key Facts
Location: Sequoia National Park
Trailhead: Crescent Meadow, elevation 6,687 feet
First pass: Kaweah Gap 10,700 feet
Lowest point (midway): Kern River Canyon 6,705 feet
Highest point: Mt. Whitney, 14,508 feet
Whitney Portal: 8,323 feet
Total elevation gain: ~15,000 feet
Total elevation loss: ~13,000 feet
Hiking Distance: 71 miles
Best seasons: Mid-summer through fall

Editors' Suggestions
The High Sierra Trail is a strenuous trip, worthy of thorough preparation. Plan to camp or lodge in the Lodgepole Village area for a couple of nights prior to your departure to allow your body to adjust to the elevation. If you are able to make reservations at the Bearpaw Meadow High Sierra Camp (11 miles up the trail from Crescent Meadow), you could spend a couple of days there to allow even more time to adjust to the elevation.
Travel as light as possible while still being prepared for contingencies such as inclement weather. Expect cold temperatures on Mt. Whitney. Carry plenty of water from the Guitar Lake area.
Wildlife
Bears are common along the trail. The use of bear canisters and bear boxes has greatly reduced the problem of bears invading campsites in search of food.
See our Bear Canister Reviews to find the best canister for your trip.
Deer are used to seeing people along the trail. Watch for them especially in the Kern River Canyon. Rattlesnakes have been sighted along the early part of the trail from Crescent Meadow to Bearpaw Meadow and again in the Kern River Canyon.
Mosquitoes are annoying in early summer and gradually taper off through August. Watch for marmots sunning on the rocks as you approach Mt. Whitney. Keep an eye open for shy gray foxes along the western slope, especially at lower elevations.