The John Muir Trail - Yosemite Valley to Mt. Whitney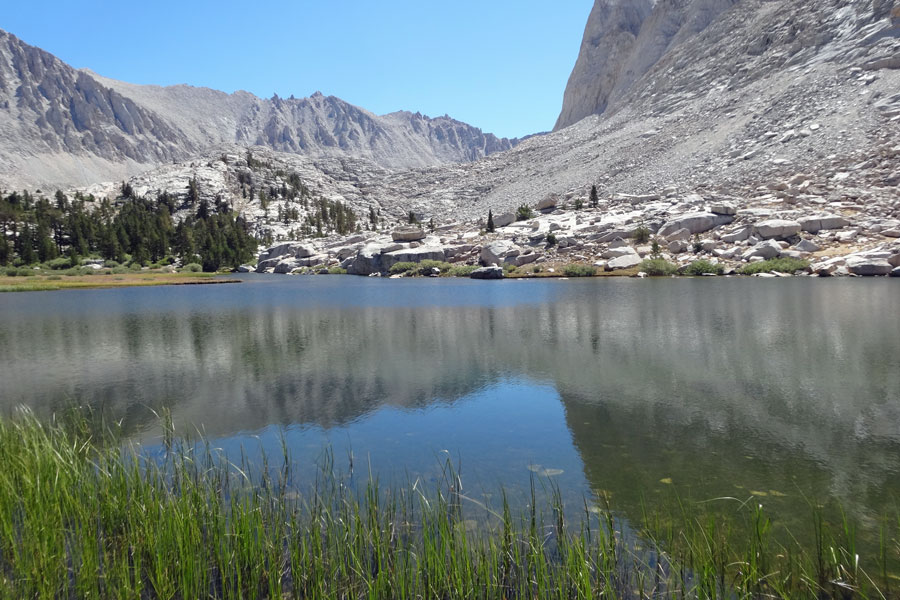 The popular John Muir Trail extends 220 miles from Yosemite Valley to Mt. Whitney. Most hikers prefer to start in Yosemite, allowing themselves to acclimate gradually to the increasing elevations as they move south toward 14,505-foot Mt. Whitney. The trail leads from one spectacular region of the Sierra Nevada to another, passing through scenic alpine meadows, traversing high granite passes, and descending along tumbling mountain streams.
For many backpackers the rewards of hiking the John Muir Trail draw them back season after season. It's more than just another hike; it's adventure and an accomplishment that likely will transform the way you think about the Sierra Nevada and about yourself.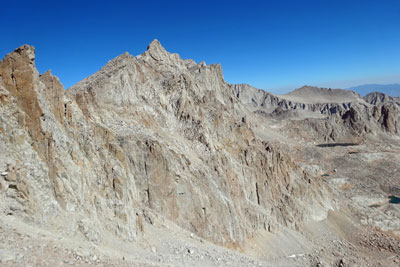 Mt. Whitney's Eastern Face
John Muir Trail - Key Facts
Location: Yosemite National Park to Sequoia National Park
Trailhead: Happy Isles, Yosemite Valley, elevation 4,040 feet
Number of passes over 10,500': 9
Lowest point (along the way): Devils Postpile 7,562 feet
Highest point: Mt. Whitney, 14,505 feet
Whitney Portal: 8,323 feet
Total elevation gain: ~47,000 feet
Total elevation loss: ~38,000 feet
Hiking Distance: 220 miles
Best seasons: Mid-summer through fall

Wilderness Permits
The first major obstacle for most backpackers planning to hike the John Muir Trail is obtaining a Yosemite wilderness permit. Demand has soared in recent years. Permit reservations for a maximum of 45 people per day are issued via a lottery system. Read all the details on our Resources page.
Competition for permits from other entry points outside Yosemite is not as stiff. A good number of backpackers choose to hike northbound from Whitney or even Horseshoe Meadow/Cottonwood Lakes because permits are easier to obtain. Others hike the trail in sections, entering from lateral trails along the way.
Planning Your Hike
The enchantment of the John Muir Trail draws hikers from across the United State and around the world. Many have questions about pacing, camping spots, stream crossings, resupply points, permit regulations, and transportation to and from trailheads. Great resources such as Yahoo's John Muir Trail Group have a bounty of experience and information on the hiking the JMT. Many books about the JMT are available; Elizabeth Wenk's John Muir Trail: The Essential Guide to Hiking America's Most Famous Trail is considered among the best.
Wildlife
Bears are common along the trail, but they are not a problem as long as proper food storage is practiced. The use of approved bear canisters is required in Yosemite, Sequoia National Park, most of Kings Canyon National Park and many other areas.
See our Bear Canister Reviews to find the best canister for your trip.
Deer are accustomed to hikers along the trail. Rattlesnakes are rarely seen along the busy JMT, but hikers should always be wary.
Mosquitoes are annoying in early summer and gradually taper off through August. Watch for marmots sunning on the rocks, especially at higher elevations around the passes. On Mt. Whitney, secure your food before leaving your pack unattended.