Lake Aloha - So Many Islands
Lake Aloha's stark beauty, meandering shoreline, and countless islands draw campers to its shores. An easy hike from the trailhead at Echo Lakes - especially if you take advantage of the water taxi - Lake Aloha makes an excellent base from which to explore surrounding lakes, trails, and peaks. Fishing is good in most of the lakes. Photographers take advantage of the ever-changing light on the rocks. Swimmers take to the water late in the summer, being mindful that cold water can quickly sap your energy.
Campsites are set back from the lake, some among sparse trees, others hidden among the rocks.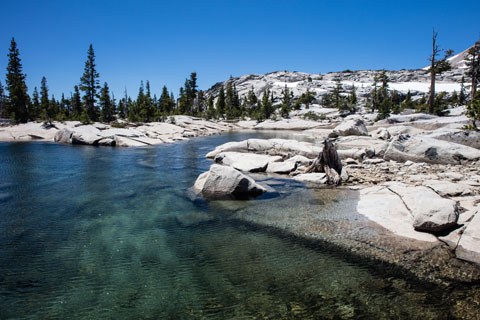 Lake Aloha
Lake Aloha - Key Facts
Location: Desolation Wilderness, El Dorado County
Trailhead: Echo Lakes on Echo Summit, elevation 7,414 feet
Highest point on trail: 8,340 feet
Elevation Gain: 926 feet
Lake Aloha elevation: 8,116 feet
Hiking Distance: 6.7 miles (using water taxi, 4.0 miles)
Best seasons: Late spring through fall
Campsites: Along Lake Aloha's northeast shore or along the rocks on the southern shore

Editors' Suggestions
While the water taxi is a quick way to put yourself at the edge of the Desolation Wilderness, the hike along the lakes is easy and often entertaining. Plan instead to take advantage of the boat ride on your way out.
Regulations for wilderness permits for the Desolation Wilderness are fairly complicated compared to other wilderness areas in California. Even day hikers need to carry a free permit (usually available at kiosks at trailheads). Permit quotas are regulated based on your first night destination rather than trailheads as in other wilderness areas. If Lake Aloha is already full, get a permit for an adjoining area such as #27, Mt. Price, which includes Lake Aloha's west shore.
Water Filter Reviews
Most backpackers play it safe by filtering or purifying their drinking water. Although the risk of Giardia may be low, the consequence of ingesting it could be weeks of intestinal distress.
Wildlife
Bears are active around Lake Aloha. Using a bear canister is the best choice for protecting your food since trees are sparse along much of the lake's shoreline. Deer are occasional visitors, most likely seen late in the season. Mountain lions prefer lower and more forested areas where they can stalk their prey undetected. Chances are good that you will never see a mountain lion. Rattlesnakes have been seen along the trail, but are rare along heavily used routes such as Lake Aloha. Hikers should always use caution. Look for marmots sunning on the rocks. They have been known to chew on salty objects such as backpack straps. Mosquitoes are pesky from early summer through mid-August. Avoid camping near swampy spots around Lake Aloha. Favor locations with a good breeze.